Enjoy and benefit from the warm winter months in beautiful Madeira
Reductions from 15% to 30% for stays of three weeks or longer
Avoid the cold and miserable weather by spending part of the winter enjoying Madeira's lovely lifestyle and warm weather in your own private villa.
Madeira's mild subtropical climate, allied to the range of high mountains that protect the south coast from the harsher climate, ensures lovley warm winters with daytime temperatures of between 18ºC and 22ºC and 12 hours of daylight, allowing you to fully experience the lovely island lifestyle.
Known as the Island of Eternal Spring, with it's wide variety of landscapes, lush vegetation and enormous variety of flowers, majestic high mountians and breathtaking views everywhere, Madeira is unquestionably one of the most beautiful islands in the world, and somewhere you will always get a warm welcome.

There is so much to see and do that you can never run out of places to explore or things to do - fascinating food choices and café culture, a rich history, lush gardens and vegetation, perfect walking and hiking conditions, a glorious warm sea for sailing and dolphin watching, and so much more.
If you are looking to find your new temporary winter sun home, don't look any further. Our discounts start at 15% and increase according to the length of stay and villa of your choice. So please get in touch with us, and we will find you the best available option for your long stay holiday in Madeira.
We are here to assist you - contact us on reservations@ourmadeira.com or call us on +351 962 721 669‬ (call to national network phone - phone, FaceTime or WhatsApp).
See the properties eligible for long stay reductions displayed at the bottom of this page.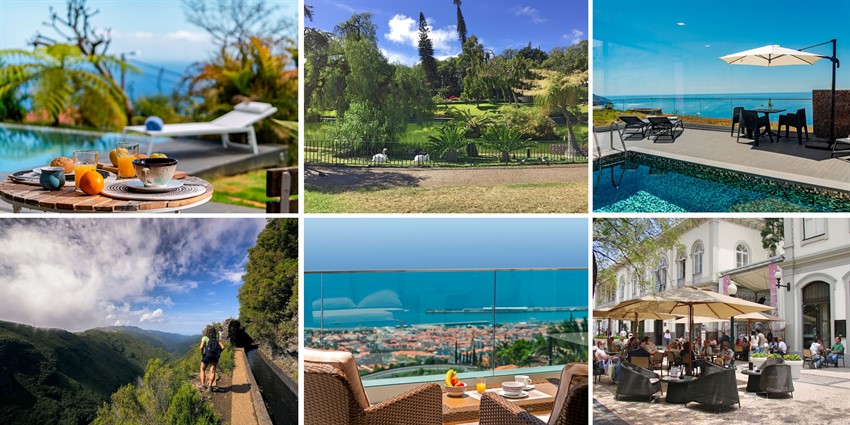 Did you know?
Those who live in or visit Madeira Islands know well that this islands have an amazing weather all year round.
The mountain range located in the center of the island prevents the bad weather coming from the Northeast from reaching the southwestern coastal areas, benefiting from beautiful weather not only during Spring and Summer but also in Autumn and Winter months.
As you can see in the charts below, daytime temperatures on the coast go from a low of 18ºC in the depth of winter to an amenable 28º in the summer. Which is particularly appealing for those from the colder climates and longer winter nights who enjoy the warmth and beautiful light of Madeira's winter sun.
Chart with the max. and min. temperatures and daylight hours in Madeira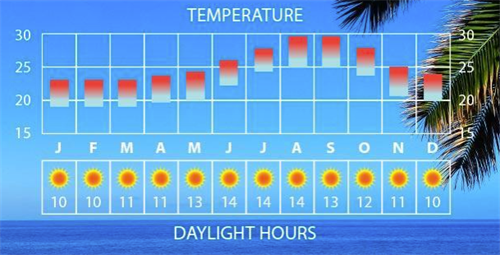 FONTE DO MAR (Premium) BELAIR (Premium) CALHETASCAPE (Quality)
07-21 January 2021, 14 nights 03-17 January 2021, 14 nights 07 January to 04 February 2021, 28 nights
2 people 2 people 2 people
Only 1,500€ Only 1,792€ Only € 2,996€
PROPERTIES WITH DISCOUNTS FOR LONGER STAYS