What to do in Madeira | Activities and experiences whilst holidaying in villas in Madeira
There is a large variety of things to do whilst holidaying in villas in Madeira. Madeira offers something for everyone, so it is best to plan your holiday activities and experiences in advance.

There is a large variety of things to do whilst holidaying in villas in Madeira. There is something for everyone.
The many activities can be split into SEA (whale and dolphin watching, scuba diving, big game fishing, and sailing), NATURE (levada walking and hiking, gardens, bird watching and bicycling) SPORTS (surfing, BTT and others).
There is also much on offer for those seeking a more leisurely and relaxing time. The beauty of the island is breathtaking, the nature, gardens and flowers so lovely that sightseeing will reward you with wonderful memories. The island's culture is rich, reflected in the many museums and exhibitions, year-round fiestas and fairs that are a delight to experience. And, of course, the historic and renowned Madeira Wine lodges allow you to see how this is produced and provide free tastings.
Did you know, for instance, that the last remnants of the forest that covered Europe before the last ice-age are found in Madeira - and that they are classified as a Unesco Heritage Sight? Or that the New Years Eve firework display is in the Guiness Book of Records? Or that Madeira is a hidden surfer's paradise? Or that Madeira has won the Leading Island Destination Award from the World Travel Awards four years running?

Your Villas in Madeira holiday will certainly pass so quickly, and we really want you to make the most of it.
We strongly recommend you plan before travelling. Not only will you be able to ensure you experience the activities that interest you the most, you will also be able to pre-book directly with the companies that provide these services.
Madeira best is an information website that allows you to better understand what is available during your villas in Madeira holiday. It has these facts and many more, and includes detailed information on all aspects of Madeira, including all those hidden corners and delightful secrets of this beautiful island.
So feel free to explore this website and discover Madeira for yourself.
Click on the picture below
and start to explore - and make sure you enjoy your villas in Madeira holiday to the full.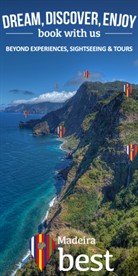 We are happy to provide links that assist you in obtaining further information on Madeira and Porto Santo Islands and associated services. Please note, however, these do not constitute recommendations of the service providers.